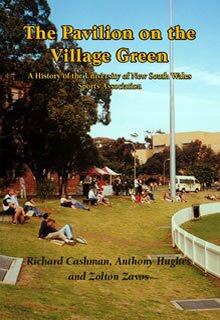 The Pavilion on The Village Green
A History of the University of New South Wales Sports Association
Book Details

Richard Cashman, Anthony Hughes and Zolton Zavos
Paperback, Appendices, Illustrations, Notes, Bibliography
Walla Walla Press

2005

ISBN 1 876718 96 X
$34.95
Foreword by Professor John Niland
Order this book.
Sport occupies a large place in the physical and cultural environment of UNSW and the University Council even confirmed that sport was a core activity of the University in 2002. Drawing on British, Australian and North American traditions the Sports Association has developed its own model of sports management, which is distinctive.
Like many other Australian universities, UNSW has struggled to find the appropriate place for sport. There has been ongoing debate in recent decades about whether the goal of sport is to enhance the life of clubs and the university community more generally or whether sport is a revenue-generating commercial product.
Although the Sports Association has grown remarkably over five decades, the introduction of voluntary student unionism (VSU) may mark the end of the Sports Association as many have known it. VSU is the biggest of many challenges faced by the Sports Association.