Welcome
Walla Walla Press publishes a number of new titles on Australian sports history each year.
New Dissertation Series
Walla Walla Press, in keeping with its mission to publish original research in sports history, has introduced a series of Sports History Dissertations to make small print runs of outstanding doctoral theses available to a wider audience.
Contact Walla Walla Press
ABN: 68 003 881 132
PO Box 717
Petersham, NSW 2049
Australia
+61 493 213 005
+61 401 655 381
info@wallawallapress.com
www.wallawallapress.com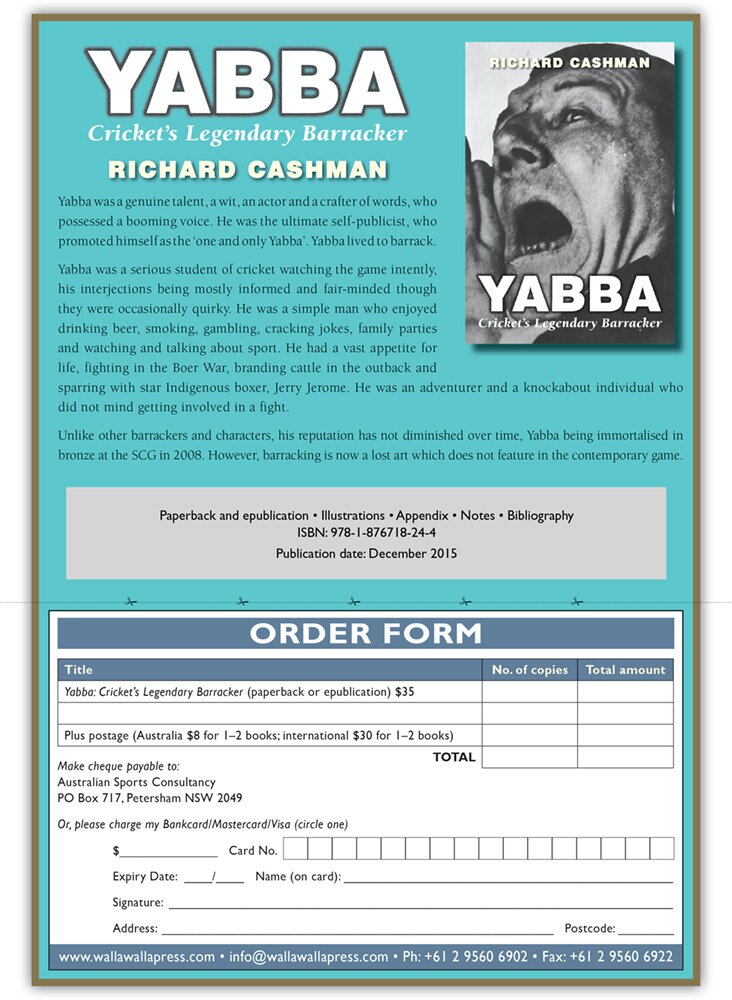 Recent Books

Cackyhander
Writing About Cricket, Sports History and the Olympic Games.
Even though sport was not highly regarded in his household, Richard became captivated by the majesty of cricket on the radio and watching the game at nearby Waitara Oval from the age of 11. 

Looking Back Rating High - Volume 2
'The second volume of this history of Australian rowing chapters describes the continual evolution of rowing in the country. From the 1940 onwards, Australia has shown some great successes and rowing is now more visible, inclusive and popular than ever.'

Looking Back Rating High - Volume 1
'The first volume of this history of Australian rowing chapters describes the initial, primitive forms of rowing in the country and the gradual evolution of the sport. From the 1870s, Australia produced a succession of world champion professional rowers which placed the sport high on the national pedestal.'

Billy Murdoch
Winner of the Australian Cricket Society Literary Award for 2018–19
'This wonderfully well researched book fills a yawning gap in the treasure-house of Australian cricket biographies. W.L. 'Billy' Murdoch was a highly talented cricketer, a key figure in his young country's rise to prominence in the national game … just as importantly, he was a genuinely interesting man whose vacillating fortunes read like a novel.'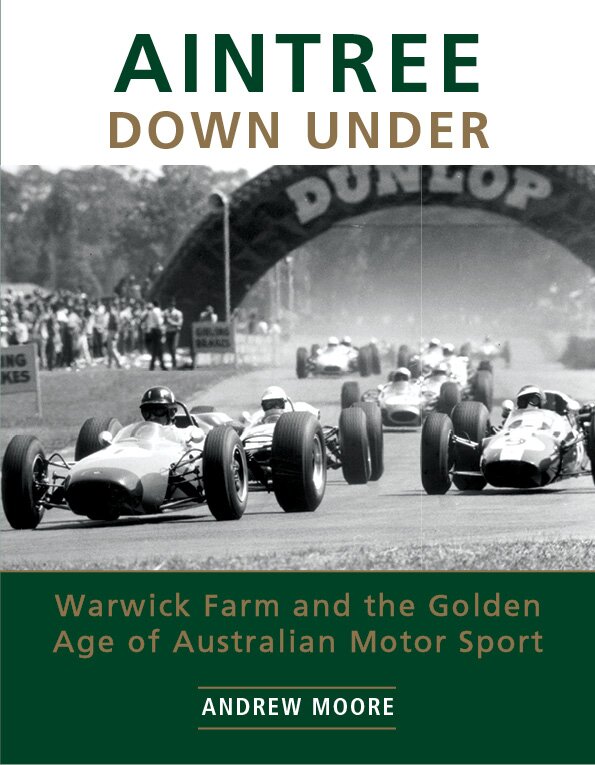 Aintree Down Under
Between 1960 and 1973, Warwick Farm was Australia's motor racing mecca, its holy of holies, its sinuous 3.6 km track hosting some of the best motor racing Australia has ever seen before or since. Formula 1 stars like Stirling Moss, Jim Clark, Jackie Stewart, Jack Brabham and Jochen Rindt excelled there, while local drivers like Frank Matich and Leo Geoghegan matched them wheel-to-wheel. 'The Fabulous Farm' changed the landscape of Australian motor racing.

Reading Australian Rules Football
Reading Australian Rules Football is the most comprehensive survey of this subject ever attempted. The book identifies over 2000 citations including 1500 annotated entries written by experts, this being more than double the number of citations in an earlier work, Reading the Game (2005). A wide variety of traditional sources have been surveyed including books, journal and newspaper articles, magazines, literary works and dissertations. The introduction of new topics, such as women in football, Indigenous involvement, web sources, music and art, further enhances this book and reflects changes in the contemporary game.

Yabba, Cricket's Legendary Barracker
Yabba was a genuine talent, a wit, an actor and a crafter of words, who possessed a booming voice. He was the ultimate self-publicist, who promoted himself as the 'one and only Yabba'. Yabba lived to barrack. Yabba was a serious student of cricket watching the game intently, his interjections being mostly informed and fair-minded though they were occasionally quirky. He was a simple man who enjoyed drinking beer, smoking, gambling, cracking jokes, family parties and watching and talking about sport.

The Demon Fred Spofforth: The Architect of The Ashes
Since the first edition of this book in 1990, accolades have continued to be showered on the Demon Fred Spofforth. Much new information and many images have also come to light, partly due to digitisation but also because of the subsequent publication of biographies of other leading pre-1914 Australian bowlers. These works raise new questions as to whether Spofforth's lofty standing as an innovative and influential fast bowler is warranted.

An Act of Bastardry: Rugby League Axes Its First Club
Glebe was Sydney's first rugby league club and it contributed much to the code's early development, producing some outstanding players such as try-scoring loose forward Frank Burge and half-back and Kangaroo captain Chris McKivat. Glebe's first grade finished second in the competition of four occasions (1911, 1912, 1915 and 1922), However, its second grade won five premierships and its third grade one.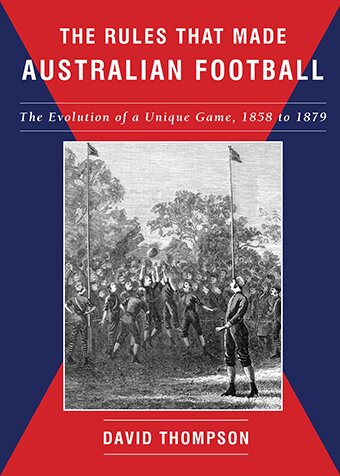 The Rules That Made Australian Football
Australian football was a product of a series of inventions, each being tied to a set of rules, which fleshed out the game's character. However, the implementation of rules often threw up new issues and problems, which necessitated further refinement and even the creation of new ones.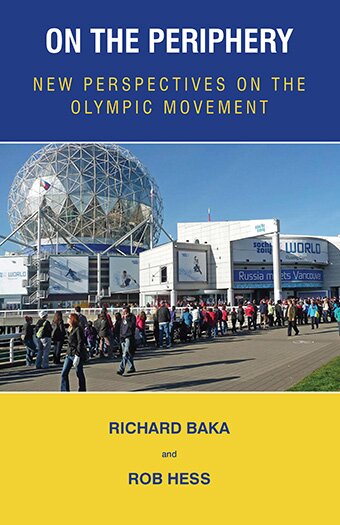 On the Periphery New Perspectives On The Olympic Movement
Major sporting festivals, such as the Olympic Games, continue to change both at the core and the periphery. Changes at the core include the inclusion of new sports and nations in the Games. How the Games are mediated, consumed, interpreted and what happens on the fringe of the Games represent some examples of changes on the periphery.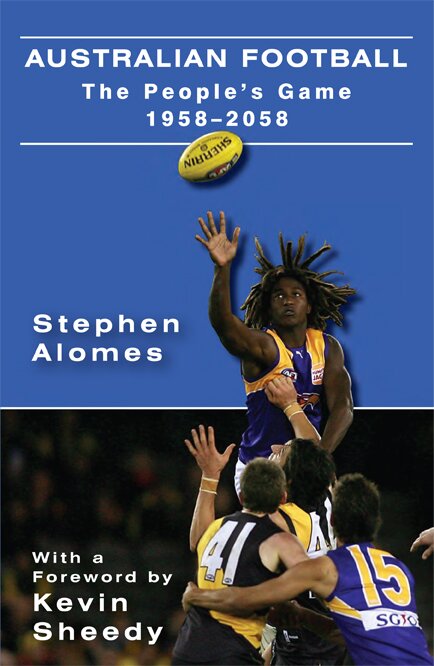 Australian Football The People's Game
Despite the dire predictions of doomsayers that Australian Football could be dead in 50 years, this book demonstrates that the Australian game is thriving and will prosper in 2058. It celebrates 'the finest form of football … the most athletic to play and the most exciting to watch', as described by English cricketer C.B. Fry.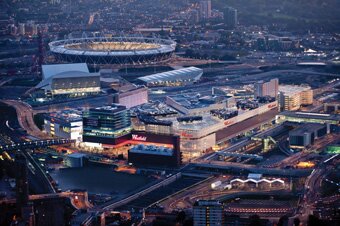 The Australian Olympic Caravan from 2000 to 2012
Australia is the first country to develop an international Olympic caravan to cater for the requirements of large-scale sporting and cultural events. Australians have promoted innovations in ceremonies, sports presentation, the design and look of events, new forms of media and other areas.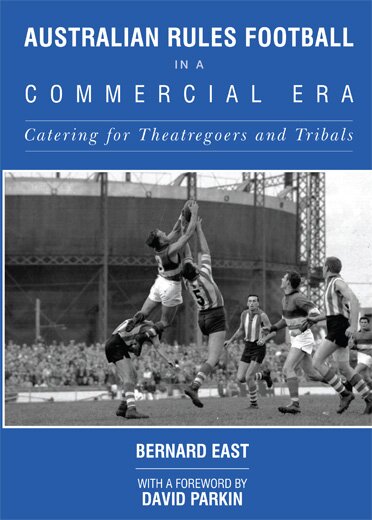 Australian Rules Football in a Commercial Era - Catering for Theatergoers and Tribals
Many commentators have contended that commercialism and commodification, prominent in the last three decades, have been detrimental to the culture and integrity of Australian football. They feared that football would become just another media-packaged form of entertainment.
Bernard East, who brings sociological perspectives to this study, contends that such fears have not been realised.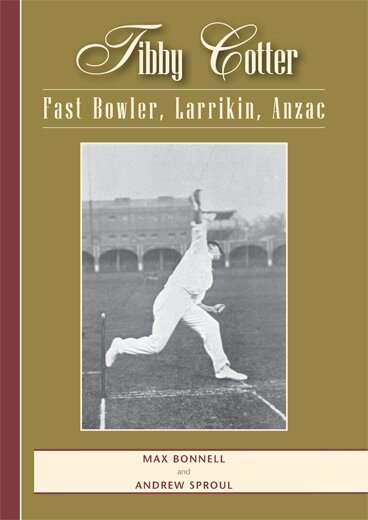 Tibby Cotter: Fast Bowler, Larrikin, Anzac
Winner of the Australian Cricket Society Literary Award for 2011–12
Tibby Cotter was a pioneer fast bowler being the first to bowl bouncers frequently in an intimidatory fashion and to employ a packed slips field. He was an unlikely innovator in that he was a carefree cricketer who disliked practice. He was a dashing tail-order batsman with entertained crowds with his slogging.
Cotter was an uncomplicated man, an undisciplined larrikin, who had his share of brushes with officialdom and the law.

Sydney Olympic Park 2000 to 2010: History and Legacy
Sydney Olympic Park 2000 to 2010 is the first extended study of the realisation of post-Games legacy in an Olympic city. It raises many new questions about the nature of legacy and when legacy obligations end.
The book refutes the sceptics of the immediate post-Games era that the Park would not become a valuable community asset. It traces how a sports park has been transformed to become 'a new piece of the city' as Lawrence Nield, the principal author of the 1995 Olympic Master Plan, put it.

Paradise of Sport: A History of Australian Sport
First published in 1995 and reprinted in 1998, 2000, 2002, 2004, 2006 and 2009, Paradise of Sport, is now republished in an updated and revised form with two new chapters:
• Chapter 12, The Australian sports system from the 1970s, explores changes in the Australian sports system from the Whitlam years to the 2009 Crawford Report;
• Chapter 13, Australian sport in a global era, examines positive and negative impacts of globalisation.

Through Thick and Thin: The South Sydney Rabbitohs and their Community
Veteran rugby league administrator Samuel George Ball was certain that South Sydney supporters were the staunchest in the League. He noted in 1931 that they followed their club 'through thick and thin'.
Through Thick and Thin explores the links between the club and its supporters and the meanings of sport in South Sydney in that the Rabbitohs represented the pinnacle of a vibrant sporting culture in this district.

Sculling and Skulduggery: A History of Professional Sculling
After Edward Trickett won the inaugural sculling world championship on the Thames in 1876 Australians dominated this sport for 61 years. Professional sculling attracted enormous crowds and inspired massive betting. Sculling and Skulduggery provides a comprehensive study of a sport that helped put Australia at the forefront. It examines the sport's meaning for Australian society.

Benchmark Games: The Sydney 2000 Paralympic Games
Benchmark Games is unique as there has been no previous study of an individual Paralympic Games. The book documents and analyses the new benchmarks that were set at the time of the successful Sydney Paralympic Games. Benchmark Games explores many questions about the appeal of the Games to the community and disability sport and the place of the disability community in Australian life.

The Bondi Lifesaver: A History of an Australian Icon
In February 2007 the Bondi Surf Bathers' Life Saving Club (SBLSC) celebrated its centenary. The story of the foundation club of unique Australian humanitarian movement and its lifesavers is that of surf life saving. The surf reel, organised patrols, red and yellow patrol caps, bathing area flags and the form of interclub competition, which are all part of Australian beach culture, were first seen on the sands in front of this famous club.

Soccer Boom: The Transformation of Victorian Soccer Culture 1945-1963
John Kallinikios challenges previous interpretations of the soccer boom in post-war Australia. He argues persuasively that historians have overplayed the ethnic factor and underplayed a significant advance of the code from an amateur participant-based sport to a more commercial and professional mass-spectator sport and that the tensions that shaped the code during this period were not necessarily linked to ethnicity.

Sydney's Pony Racecourses: An Alternative Racing History
Contrary to the name of the sport, most pony races were contested by fully-grown thoroughbreds. It has been suggested that pony racing appealed to desperate, the 'needy and greedy' elements of the working class only. Sydney's Pony Racecourses demonstrates that such assertions are without basis. The sport was one of the country's biggest industries with the prize money for its cup-races matching the Cox Plate.

The Bitter-Sweet Awakening: The Legacy of the Sydney 2000 Olympic Games
There has been increasing recognition of the impacts of mega sporting events and in 2001 the International Olympic Committee initiated its Olympic Games Global Impact Project. Have the long-term impacts been positive or negative? The Bitter-Sweet Awakening is the first book of its kind, a broad-ranging analysis of the impacts of one particular Olympic and Paralympic Games.
General

Dead Parrot
(Reprinted January 2005) This is a novel with a difference, it's a bird-watcher thriller. In addition to being a great read, it delves into Australia's fastest-growing pastime – bird-watching. It explores how and why some birders have transformed this 'genteel' pursuit into a competitive sport. Set in Sydney, Dead Parrot has some astute and humorous observations and insights into life in the emerald city.