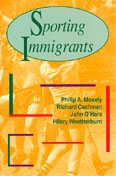 Sporting Immigrants
Sport and Ethnicity in Australia
Book Details

Philip A. Mosely, Richard Cashman, John O'Hara and Hilary Weatherburn

(eds)

Paperback, 323 pp.
Walla Walla Press

1997

ISBN 0 9587079 01
$29.95
Order this book.
Sporting Immigrants is a pioneering work, the first to properly acknowledge an ethnic contribution to Australian sport. Immigrants have fostered new sports including baseball, basketball, callisthenics, gymnastics, snow sports and softball and have made sports, such as soccer and weigthlifting, more popular.
Mainstream sports, such as Australian Rules football, rugby league and cricket have also been enhanced by immigrants. Australian sport has become more diverse in the 1990s and Australians now achieve greater international success in a wider range of sports than ever before.
In his Foreword, Warwick Smith, former Federal Minister for Sport, endorses the book as a pioneering work. He is absolutely right. It was some three years in the compiling, beginning when the Bureau of Immigration, Multicultural and Population Research and the Australian Sports Commission commissioned the Australian Sports Consultancy to produce a preliminary study on ethnic involvement in Australian sport. The report was submitted in late 1996, and then revised as Sporting Immigrants, published by the wonderfully though curiously named Walla Walla Press.
Sporting Immigrants represents an important start, a first-base study which is divided into four accessible sections: a two-part Overview; eight community case studies; ten individual sport case studies; and Women, Ethnicity and Sport. Aboriginal issues are canvassed in each section.