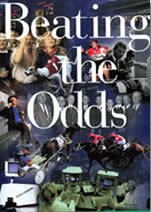 Beating the Odds
Thirty Years of the Totalizator Agency Board of New South Wales
Book Details

Sean Brawley
Hardback
Walla Walla Press
ISBN
$33.00
Order this book.
On the 9th December 1964 the Totalizator Agency Board (TAB) of New South Wales offered the State's people the opportunity to bet off-course legally for the first time.
Thirty years later the TAB is one of the largest betting organisations in the world. Internationally recognised for its use of advanced technologies, its sales in the period of 1993-94 exceeded $3.3 billion, helping to maintain its position as one of Australia's top 40 companies.
Since its establishment it has provided in excess of $3 billion in revenue to the NSW Government and $1.1 billion in assistance to the NSW racing industry.
Beating The Odds tells the story of the early opposition to the TAB's establishment through to its present phenomenal success, recounting the people, events and challenges which have shaped the organisation.
Dr Sean Brawley was born and educated in Sydney, attaining his PhD in History at the University of New South Wales in 1992. His first book The White Peril: Foreign Relations and Asian Immigration to Australasia and North America 1919-1978 was published by the University of New South Wales Press.
Dr Brawley has taught in universities in Australia and New Zealand and is the author of a number of academic articles on aspects of Australian, American and New Zealand history.
He has written Vigilant and Victorious as well as contributing to a Bureau of Immigration Research/Australian Sports Commission study into ethnicity and sport in Australia.