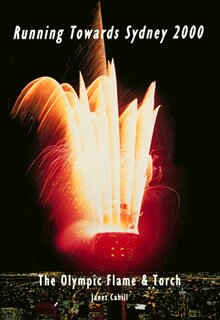 Running Towards Sydney
The Olympic Flame & Torch
Book Details

Janet Cahill
Paperback, Bibliography, Photographs, Reference Notes, Illustrations, Statistics, 95 pp.
Walla Walla Press

1999

ISBN 0 9587079 8 7
$22.95
Order this book.
Successive summer Olympic Games have staged the flame lighting and torch relay ceremonies. These have now become a strong tradition of the Olympic Games.
The Olympic flame and torch are significant symbols of the Olympic Games and are important in involving the general public in the Games. The flame and torch are also significant in terms of the community, political influence and commercialism. Their symbolism has expanded considerably due to sponsorship and media coverage.
This lavishly illustrated book is a well researched history of the Olympic Flame and torch starting from ancient Greece and tracing its journey to the Sydney 2000 Olympic torch relay.
Running Towards Sydney 2000 is woven with fascinating anecdotes about the Olympic flame. It relates the experiences of some prominent Australians who carried the torch. A memorable chapter on the torch relay to the Melbourne Olympic Games gives an insight into how people from 'all walks of life' were touched by their experience of the Olympic flame in 1956.
This is a book for all Australians to enjoy and will enhance their experience of the Olympic torch relay.