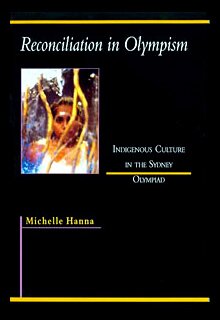 Reconciliation in Olympism
Indigenous Culture in the Sydney Olympiad
Book Details

Michelle Hanna
Paperback, Bibliography, Photographs, 138 pp.
Walla Walla Press

1999

ISBN 0 9587079 7 9
$21.95
Order this book.
Reconciliation in Olympism explores the representation and involvement of indigenous culture in the Sydney 2000 Olympic Games, from the time when Sydney bid for the Games to the staging of the first Olympic Arts Festival 'The Festival of the Dreaming'.
The Festival was a landmark event in the cultural life of indigenous and mainstream Australia, giving indigenous Australians the opportunity to present themselves, significantly departing from traditional representations of indigenous Australia by non-indigenous people.
Reconciliation in Olympism is a challenging and even controversial book in which Hanna argues that 1997 Festival provided the debate that Australia should have had in 1988. She also examines many issues relating to the indigenous involvement in the Olympic Games and suggests that Olympism should encourage reconciliation.
Rhoda Roberts, Artistic Director of the Festival, states:
'I had a vision, a songline that would weave itself across Sydney, giving the city a soul and a black independent voice. The Festival created a new dialogue between the indigenous and non-indigenous peoples in Australia. It is wonderful to have the Festival reviewed in such a manner as to locate its significance to both the indigenous communities and the national culture and also to the Cultural Olympiad. Michelle does not attempt to articulate or create a new contemporary indigenous culture in Australia, but gives an overview concluding that it is time for indigenous and non-indigenous Australians of finding a new way of being together in this nation.'