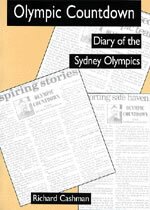 Olympic Contdown
Diary of the Sydney Olympics
Book Details

Richard Cashman
Paperback, Illustrations, 91 pp.
Walla Walla Press

1998

ISBN 1 876718 00 5
$16.95
Order this book.
Olympic Countdown is a collection of weekly columns, written from an independent perspective, that were published in the Southern Courier and the Inner Western Courier on a wide variety of Olympic subjects during 1998.The book is a record of the many issues which surfaced in the local media and were debated so fervently in the Olympic city. Some of the topics include drugs, the Cultural Olympiad, the environment, the Paralympics, politics, security, the sponsors, the torch relay, transport and even the weather.
The column also provides an account of the varied activities of the Centre for Olympic Studies at the University of New South Wales and documents how Australian scholars are taking a lively interest in the Sydney 2000 Olympic Games.
Richard Cashman is an Adjunct Professor at the University of Technology, Sydney. He has also been a delegate at national and international Olympic Academies and is the Managing Director of Walla Walla Press.