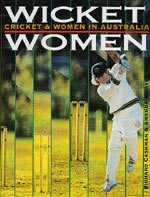 Wicket Women
Cricket & Women in Australia
Book Details

Richard Cashman and Amanda Weaver
Hardback, Select Bibliography, Reference Notes, Photographs, Illustrations, Statistics, 246 pp.
Walla Walla Press

1991

ISBN 0 86840 364 4
$32.95
Order this book.
For more than a century, Australian women cricketers have been among our most successful sporting exports, yet their prowess has often attracted ridicule, or has simply been ignored.
Wicket Women looks for the first time at women's cricket – its rich history, itstriumphs, and the struggle of its players against the deep-seated prejudices which have held back most women's sports.
The authors trace the history of the game from its earliest years to the current boom, with more than 12,000 affiliated players throughout Australia. The response of the media and male cricket supporters – often hostile and condescending – is discussed, and the future of women's cricket in Australia examined.
A comprehensive statistical record of women's cricket in Australia is also included.
Richard Cashman is an Adjunct Professor at the University of Technology, Sydney and has published extensively on Australian sporting history in general and cricket in particular. He is the President of the Australian Society for Sports History and a former Editor of its journal Sporting Traditions. He has twice won the Literary Award of the Australian Cricket Society.
Amanda Weaver is a journalist with ABC Television's 'The Investigators'. A cricketer, she has played with the Randwick Women's Cricket Club since 1986 and has written extensively about the game in the national press.