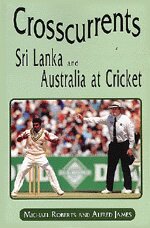 Crosscurrents
Australia and Sri Lanka at Cricket
Book Details

Michael Roberts and Alfred James
Hardback, Illustrations including an 8 p. colour insert, 176 pp.
400 numbered & signed copies
Walla Walla Press

1998, 2nd printing January 1999

ISBN 0 9587079 9 5
$32.95
Paperback, 1998, Illustrations, 168 pp.
ISBN 0 9587079 01
$24.95
Order this book.
Crosscurrents is a thought-provoking, even provacitive book, which explores the recent troubled relationships between Sri Lankan and Australian cricketers. The Sri Lankan team's Australian tour in 1995/96 was marked by tempestuous episodes as well as acrimony on the field. The strained relationships were exacerbated when the carnage caused by a terrorist bomb in Colombo on 31 January 1996 led to the Australian team to forego their match in Colombo during the World Cup.
Sri Lankan anthropologist Michael Robert's incisive review of these episodes reaches beyond the cricket field in unpacking the characteristics of Australian popular culture through the practices of its cricketers, umpires, sports commentators and the occasional public comment. The background of Eelamist claims also features in this anthology.
Crosscurrents is the first anthology to explore Sri Lanka's cricketing relationship with Australia since 1884 when the first of many Australian teams played a game or two en route to England. Australian cricket writer Alf James' statistical record of Australian tours of Ceylon and Lanka substantiates the background of interaction. Australia has developed a close relationship with Sri Lankan cricket over more than a century and contributed to Sri Lanka gaining Test status in 1981.