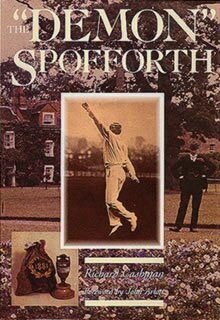 The "Demon" Spofforth
Book Details

Richard Cashman
Hardback, Bibliography, Notes, Photographs, Illustrations, Scorecards, 275 pp.
Walla Walla Press

1990

ISBN 0 86840 004 1
$32.95
Order this book.
The "Demon" Spofforth is the first biography ever written on this remarkable Australian cricketer who made cricket history and became a legend.
He was according to the great cricket authority, C B Fry, the founder of a new school of bowling. For the first time there appears in the game of cricket a thinking fast bowler who combined subtle variation of pace with sheer speed.
Fred Spofforth was a complex personality: an intense inner-directed man with an abundance of physical and mental energy which gave him an extraordinary presence on the field. He was a man with a fine sense of humour and a courage which enabled him to gamble when it was necessary and to jump headlong into controversy when a principle was at stake.
As the first cricket hero to come out of Australia, Spofforth had to learn to live with an adoring public and a press which on one day heaped praise on him and on the next savagely criticised him.
The foreword for this book is written by the doyen of English cricket commentators and journalists, John Arlott.
'Spofforth's story has been a long time coming, but he was Australia's first cricket hero, the Lillee of the 19th century, and just as much part of Australian folklore as Ned Kelly.'
David Frith Wisden Cricket Monthly
'A splendidly researched book which is the trademark of any publication from Richard Cashman.' Chris Harte Australian Cricket Journal