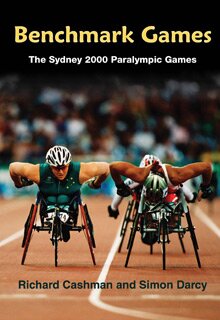 Benchmark Games:
The Sydney 2000 Paralympic Games
Book Details

Richard Cashman and Simon Darcy
With a Foreword by Karen Tighe
Published in conjunction with the Australian Centre for Olympic Studies
Walla Walla Press

July 2008

Hardback, illustrations, notes, bibliography, index
ISBN: 978-1-876718-05-3
$AUD49.95 plus postage
Order this book.
Benchmark Games is unique as there has been no previous study of an individual Paralympic Games. The book documents and analyses the new benchmarks that were set at the time of the successful Sydney Paralympic Games. Benchmark Games explores many questions about the appeal of the Games to the community and disability sport and the place of the disability community in Australian life.
This book gives a wonderful insight into the background and running of the Sydney Paralympic Games and the legacy it has left (Karen Tighe, Foreword).
Chapters
PART 1: BECHMARKS BEFORE 2000
1. Introduction (Richard Cashman and Simon Darcy)
2. The evolution of the Paralympic Games (Ian Brittain)
3. Paralympic benchmarks before 2000 (Richard Cashman)
PART 2: THE SYDNEY 2000 PARALYMPIC GAMES
4. The benchmark Games (Richard Cashman)
5. Paralympic planning (Simon Darcy)
6. Media and representation (Richard Cashman and Dominique Tremblay)
7. Community (Richard Cashman and Alana Thomson)
8. The delivery of sport (Richard Cashman)
9. Infrastructure (Simon Darcy)
10. The athletes village (Tony Sainsbury)
11. The inclusion and exclusion of athletes with an intellectual disability (Anne Jobling, Ian Jobling and Hayley Fitzgerald)
PART 3: LEGACY
12. Impacts—national and international impacts (Simon Darcy and Richard Cashman)
13. Paralympic research agendas (Simon Darcy and Richard Cashman)
Epilogue