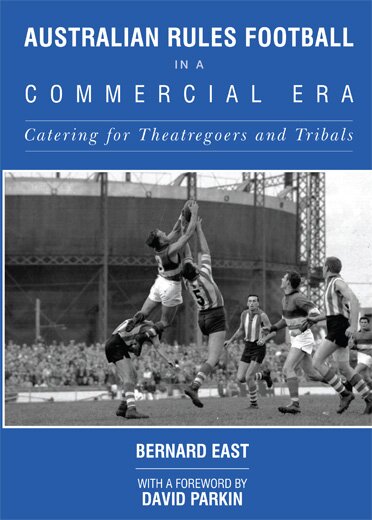 AUSTRALIAN RULES FOOTBALL IN A COMMERCIAL ERA
CATERING FOR THEATREGOERS AND TRIBALS
Bernard East

136 pages
Hardback and epublication • Illustrations • Notes • Bibliography • Index
Walla Walla Press, Sydney, April 2012
ISBN: 978-1-876718-11-4
No. 5 in the Walla Press Sports History Dissertation Series
$34.95

Order this book.
Many commentators have contended that commercialism and commodification, prominent in the last three decades, have been detrimental to the culture and integrity of Australian football. They feared that football would become just another media-packaged form of entertainment.
Bernard East, who brings sociological perspectives to this study, contends that such fears have not been realised. Commercialisation has not overwhelmed the game, rather, the culture of Australian football has been re-imagined in interesting and attractive ways. The fans remain passionate about the game, supporting it in ever increasing numbers. Both tribals and theatregoers regard football's culture as both authentic and enduring.
The AFL has opted for a balanced approached between commerce and culture and tradition and change, more so than any other football code. The League has also introduced many reforms to ensure a more even and attractive competition.
Book chapters
• 1 Sociological Perspectives on Australian Rules Football • 2 Localism and Rationalisation • 3 League and Club Administration • 4 Professionalisation • 5 Tradition, Commodification and Television • 6 The Re-imagining of Australian Football Culture