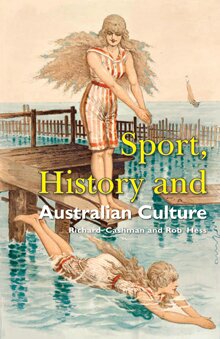 Sport, History and Australian Culture
Passionate Pursuits

Richard Cashman and Rob Hess, Editors
Paperback
220 pages
ISBN: 978-1-876718-09-1
Published: 21 February 2011
$49.95

Order this book.
Sport, History and Australian Culture explores the evolution and meaning of Australian sport particularly in the Federation decades.

Unlike previous histories, which have focused rather more on privileged male team sports, this book incorporates new research on neglected individual sports, such as cycling and swimming, which have been open both to men and women.

The book combines new and enterprising reflections on Australian sports history with some existing work, which has been revised.

Richard Cashman is an Adjunct Professor at the University of Technology, Sydney, and the author of a number of books on the history of Australian sport, including Paradise of Sport: A History of Australian Sport (rev. edn, 2010). He has also written a number of books on Olympic legacy. He was Editor of Sporting Traditions, the journal of the Australian Society for Sports History, from 1993 to 1999 and was President of ASSH from 2001 to 2004.
Rob Hess is a Senior Lecturer in the School of Sport and Exercise Science at Victoria University where he coordinates a number of sport history units. He is the former Publications Officer of the Australian Society for Sports History, and currently co-Academic Editor of the International Journal of the History of Sport, and Executive Editor of the Bulletin of Sport and Culture. He is an Associate of the Institute of Sport, Exercise and Active Living.