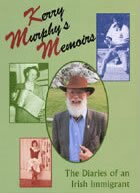 Kerry Murphy's Memoirs
The Diaries of an Irish Immigrant
Book Details

Kerry Murphy
Hardcover, Illustrations, Index, 383 pp.
Walla Walla Press

1998

ISBN 0 9587079 1 X
$24.95
Order this book.
Kerry Murphy was born at Knocknagoshei, County Kerry, Ireland on 2 January 1918. His memoirs tell of growing up in Ireland and migrating to Australia in 1950. The book, based on meticulously-kept diaries, represents a compelling and feisty narrative of a man who is passionate in his love of things Gaelic: sport (hurling and Gaelic football), language, religion, politics, dance and the celebration of St Patrick's Day.
The book represents an authentic voice of an Irish Australian. It also contains essays on the history of Gaelic culture and a history of Gaelic sport in Australia, including its links with Australian Rules Football. This is a readable and remarkable book begun when Kerry Murphy was 65 and published shortly after his eightieth birthday.
Kerry Murphy has been prominent in the Irish-Australian community for almost five decades. This is an important book not only for Irish-Australians but for all who have an interest in the rich smorgasbord of contemporary Australian sport. The book is a powerful statement of the strength and vitality of multiculturalism demonstrating how it has enriched Australian culture.
For the sports historian and scholar of immigration Kerry Murphy's Memoirs offers a timely insider view of sport in an immigrant community in Australia. A man with limited formal education, Kerry Murphy sets out to tell 'a simple story of life the way I saw it and lived it and loved it and also of our games and pastimes' (p.3). It is the work of a common man who was intimately involved in all facets of the culture of his ethnic community – music, dance, language, sport, religion, charity and politics – from the day he arrived in Australia on 21 February 1950.
Part Two of the book will be of great interest to those interested in sport in immigrant communities. Historians of Irish Australia will welcome this part of the Murphy story. He was intimately involved in the development of the New South Wales and Australasian Gaelic Athletic Association. His knowledge of the internal politics of the organisation is immense as it is of the teams and personalities involved in the association for almost half a century.
Anthony Hughes Sporting Traditions 14:2, May 1998.