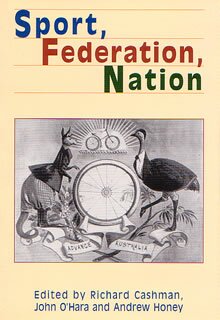 Sport, Federation, Nation
Book Details

Richard Cashman, John O'Hara & Andrew Honey

(eds)

Paperback, Illustrations, Notes, Tables, Bibliography, viii + 216 pp.
Walla Walla Press
ISBN 1 876718 42 0
In conjunction with the Centre for Olympic Studies, The University of New South Wales
Order this book.
This is the first book to explore the impact of Federation on Australian sport and the contribution of sport to the new Commonwealth of Australia before and after 1901.
The first three chapters explore whether new policies of the Commonwealth (defence, the White Australia Policy and the non-recognition of Aborigines) influenced sporting practice. Did the regular visits of 'non-white' sporting teams and individuals modify the operation of the White Australia Policy?
Four chapters examine the emergence of national sporting organisations and explore why Australasian teams (joint teams of Australia and New Zealand) persisted in some sports for decades. The authors also investigate how national symbols, emblems and colours featured in sporting costumes.
The final chapters consider whether sport contributed to a sense of nationhood after 1901 encouraging a more indigenous sporting culture, such as surf lifesaving. The connection that some women made between political and sporting reform is another theme of this part.
Contents
1. Introduction Richard Cashman

Part 1. A Federation Factor In Sport?

Introduction Richard Cashman
2. The Involvement of the Commonwealth Government in Physical Education From Defence to National Fitness Imke Fischer
3. Sport, Immigration Restriction and Race The operation of the White Australia Policy Andrew Honey
4. Absent Aborigines The impact of Federation on Indigenous sport Bernard Whimpress
Commentary John O'Hara

Part 2. A Changing Face Of Sport?

Introduction Richard Cashman
5. Trans-Tasman Federations in Sport The changing relationships between Australia and New Zealand Charles Little
6. Ambiguous and Overlapping Identities Australasia at the Olympic Games 1896-1914 Charles Little and Richard Cashman
7. A Football Federation? The Australasian Football Council and the Jubilee Carnival of Australian Rules football Rob Hess
8. Sporting Federations The impact of Federation on sports governance Anthony Hughes
Commentary Greg Ryan

Part 3. A Sporting Contribution To Nationhood?

Introduction Richard Cashman
9. 'Our Life-Savers' The Royal Life Saving Society and the origins of surf life saving in Federation Sydney Sean Brawley
10. Women, Femininity and Sport The contribution of the 'New Woman' to Nationhood Angela Burroughs
11. Conclusions John O'Hara