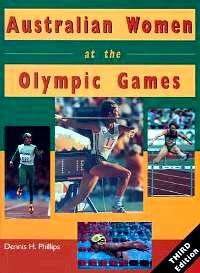 Australian Women at the Olympic Games
3rd Edition
Book Details

Dennis Phillips
Paperback, Illustrations, viii + 184 pp.
Walla Walla Press
ISBN 1 876718 30 7
$27.45
In conjunction with the Centre for Olympic Studies, The University of New South Wales.
Order this book.
Seven of Australia's greatest female Olympic champions were honoured at the culmination of the torch relay and the lighting of the cauldron (lit by Cathy Freeman) at the Opening Ceremony of the Sydney Olympic Games.
This recognition was timely because the six final torch-bearers (Betty Cuthbert, Raelene Boyle, Dawn Fraser, Shirley Strickland de la Hunty, Shane Gould and Debbie Flintoff-King) had contributed many of Australia's greatest Olympic moments.
2000 was also the occasion to celebrate 100 years of women in the modern Olympic Games because no women were permitted to compete in the 1896 Olympic Games.
Dennis Phillips has revised and updated previous editions of this book published before the 1992 and 1996 Olympic Games. He begins with a lavishly illustrated chapter on the outstanding achievements of Australian women at the Sydney 2000 Olympic Games and includes new material on the Atlanta Olympic Games.