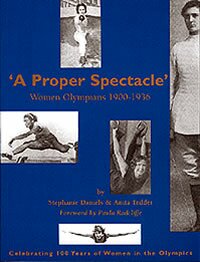 'A Proper Spectacle'
Women Olympians 1900-1936
Book Details

Stephanie Daniels and Anita Tedder
Paperback, Photographs, Illustrations 170 pp.
Walla Walla Press
ISBN 1 876718 12 9
$38.45
In conjunction with ZeNaNa Press and the Centre for Olympic Studies, UNSW.
Order this book.
The book celebrates 100 years of women in the Olympics. Part I looks at important landmarks in the struggle of women to gain acceptance in the Olympic program in 1900. Part II is devoted to the memories and the personal stories of women who competed in the Games until 1936.
The authors introduce some unforgettable characters such as the glamorous swimmer Eleanor Holm, who trained on champagne and partied all night before winning races, American fencer Joanna de Tuscan, enticed to audition for the lead in Gone with the Wind and German javelin thrower Tilly Fleischer, invited to dine with Hitler. Then there is the sad story of sprinter Stella Walsh who ran as a woman but died as a man.
In the Olympic Year 2000, at the Sydney Games, women will be celebrating one hundred years of official participation. Bedford authors, Stephanie Daniels and Anita Tedder have sought out 32 of the world's oldest women Olympians from 10 different countries and asked them to tell their stories.
The women who took part in the Olympics in the early years of this century had to fight to win a place at the Games. The authors tell the story of this struggle, and introduce some of the unforgettable characters who shaped female sporting history.