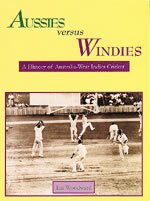 Aussies versus Windies
A History of Australia-West Indies Cricket
Book Details

Ian Woodward
Paperback, Bibliography, Illustrations, Scorecards, 264 pp.
Walla Walla Press

1998

ISBN 0 9587079 2 8
$32.95
Order this book.
Aussies Versus Windies is a long overdue book, the first to fully document the extraordinary rich and exciting history of Australia-West Indies cricket. The 86 tests between the two countries since 1930/31 have contained many of the most dramatic and exhilirating moments the game has known including the first tied Test, a Test won by one run and another by one wicket.
'The contest has been nail-bitingly tense, sublimely thrilling and gloriously entertaining; and it has been scary and downright bloody dangerous. In fact the only thing that cricket between the Aussies and the West Indies has never been...is dull!'
Ian Woodward also explores the many controversies over race, sledging, chucking and short pitched bowling.
Aussies Versus Windies is also a valuable reference source, with full scoreboards for all 86 tests and essential statistical information for all first class, minor and one day games.
After a long career in radio and television, in Hobart, Melbourne, Adelaide and London, Ian Woodward is now semi-retired and lives in Brighton, Melbourne. He is the author of Cricket Not War: The Australian Services XI and the Victory Tests of 1945 (1995) and was a contributor to the Oxford Companion to Australian Cricket (1996).
An early love of the game was established in January 1952, just before his eighth birthday – when he was taken to the old TCA ground on the Queen's Domain in Hobart to see the West Indian tourists (including the celebrated three W's – Weekes, Worrall and Walcott – who made 66, 160 no and 186 no, respectively).
Ian Johnson CBE wrote a Foreword for the book a few weeks before his death.